News
Event 2012 - Lapland
18/01/2012




Winch Consulting including all employees met together on yearly basis to share a good moment around company values.
The trip 2012: Lapland was highly appreciated.
On the agenda, discover Artic Circle by snowmobile, restaurant build with ice, relaxation and sharing.


WINCH Consulting meeting
28/01/2011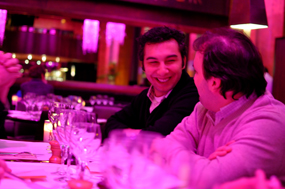 As planned every quarter, WINCH Consulting staff have met to share their experiences and discuss about their sector of activity.
This special moment, which marked the beginning of the year 2011, took place in various workshops: SAP, Business Warehouse, Business Object… This is the language we are working in!
Fortunately for our novice readers, we can also share some images of our photo sessions, around the tug of war visual representation (see video)
Finally, consultants and their spouses were invited to the Restaurant of Le Musée de l'Homme for dinner and relaxation, with a view of the Eiffel Tower.
Clearly, 2011 promises to be filled with unexpected surprises!


Weekend in Tunisia




Each year, Winch employees meet for a sociable week-end, outside the workplace.
It is a real opportunity to foster team spirit.
The chosen destination for 2011 was Jerba, for a buggy raid weekend across the desert of Tataouine.
Watch the video of our crazy stay in Tunisia!